A hub of information for Gmail users around the world including articles, news, FAQs, forums, tutorials, Web sites, and more about the new Google email service released in beta version by Google on April 1, 2004. If you would like us to add any links or information to this Web site, or if you see something thing that needs updating or correcting please send a note to Gmail Users editor
Kathie Fry
using one of the methods on our
contacts
page.
New On This Web Site
Gmail Resources
Gmail: Google's Aproach to Email
Wikipedia Introduction to Gmail
Open Directory of Gmail Resources
---
Gmail Articles and News
Google Gives Up Gmail Name in the UK
Google has given up on using the name "Gmail" in the United Kingdom. Because of a trademark dispute, Google's free email service will be renamed "Google Mail" in Great Britain.
Google Introduces Personalized Home Page
In May of 2005 Google introduced a new "personalized home page" service that allows users to have a personalized Google home page that includes links to favorite resources.
Google Ponders Blogger and Gmail Integration
In May of 2005 Google contemplated making several improvements to its popular Blogger Web logging service, including native image uploading and deeper integration with the company's Gmail Web-mail service, according to a Google executive.
Google Knocked Offline - Denies It Was Hacked
Google and some of its services - including Gmail - were not available on Saturday May 7, 2005 from 6:45 to 7:00 pm EDT, and some users were not able to connect for up to an hour. Because users were rerouted to another Web site when they tried to connect to Google, there was speculation the problem was caused by hackers, but Google denied that, saying it was a Domain Name System (DNS) problem.
Google Diversifies and Produces a New Sports Drink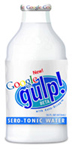 Google's new sports drink has been named the Google Gulp and it will "
slam a truckload of electrolytic neurotransmitter smart-drug stimulants past the blood-brain barrier to achieve maximum optimization of your cerebral cortex
"....